AlterG®
State of the Art NASA developed AlterG® available in Owatonna, MN
In Touch Physical Therapy owns the only AlterG® in Southern Minnesota open to the public. The AlterG® is an Anti-Gravity Treadmill developed by NASA researchers in the 1990's. It creates this unloading, weighted effect so you can return to walking or running faster post-surgery or post-major injury. It works by using load cells on the bottom of the machine that measure a person's weight and then creates a vacuum like effect that lifts the individual up and unloads the pressure they'd otherwise be putting on their body. There is basically a bubble, you could say, on the treadmill, that's where the vacuum's created. You enter on top of the treadmill and it creates a bubble around your hips, and that bubble inflates with air and that's where the unloading effect happens.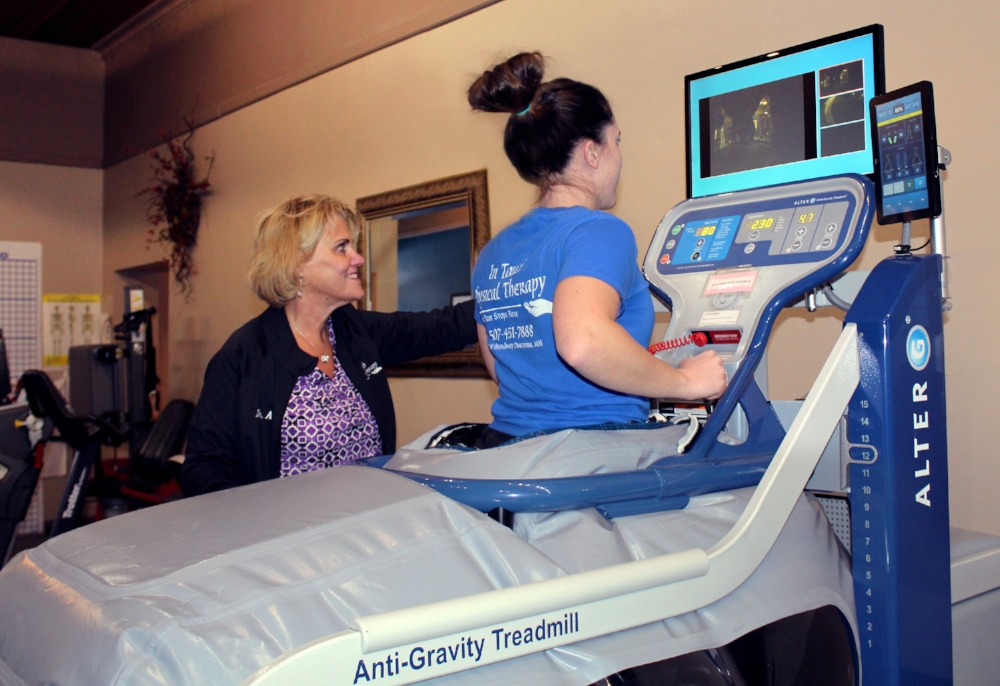 Thanks to its precise unweighting technology, the AlterG Anti-Gravity Treadmill allows you to push your physical therapy rehabilitation and training further than ever before.
You can:
Reduce gravity's impact by selecting any weight between 20% and 100% of your body weight by 1% increments

Rehabilitate lower extremity injuries with less pain and less impact

Improve mobility, strength and safety for those with neurological conditions

Provide a safe way to lose weight and exercise more intensively while unweighted

Train without pain and reduce the stress to joints and muscles

Recover effectively and with less pain after training or competition
Athletes
AlterG® is a popular choice among star athletes all over the world. The Minnesota Vikings, New England Patriots, Boston Celtics, Los Angeles Lakers, and Montreal Canadiens, along with many professional sports teams utilize the AlterG®. The AlterG® allows you to take a desired % of your weight off of your injured body part. It is a gateway to exercise when pain limits you from your normal routine; you can continue to train throughout the healing process.
For those who are coming back from an injury the AlterG® makes it easier to start walking and running earlier in the healing process. It can be an invaluable tool for high-level runners, triathletes and recreational walkers of all kinds. At In Touch we utilize the AlterG® with the goal of helping to improve people,s movement capabilities and performance so they can get back to life, recreation and athletics. It is our belief that appropriate running or walking can be a vital part of that process.
AlterG® treadmill also has cameras and software to assist us in analyzing which muscles need strengthening, help you adjust your form and educate you on your appropriately fitted shoe wear. Now we can integrate gait and video analytics into therapy to identify asymmetry and gait deficiencies, and precisely dial-in the body weight support needed to enable pain-free, normalized gait. Achieving the optimal rehab program for our patient has never been easier.
The new Stride Smart system provides us with objective data and visual monitoring for both patients and clinicians. Now we're able to optimize recovery after injury or surgery or help athletes prevent injuries by using data.
Seniors
When recovering from a stroke or struggling with a neurological disorder, patients are often afraid of falling. Seniors with osteoporosis are at an even greater risk, since a short fall can break bones. The AlterG® offers a unique fall-safe environment and is great for long-term care and treatment. It is virtually impossible to fall out of the AlterG®, once a user is zipped into the chassis. As the AlterG® activates and the unweighting process lifts the user, it becomes easier and easier to walk. There are many convenient and solid handholds that the user can grab at any time they feel off balance.
Walking naturally is an important part of recovering from a stroke or traumatic brain injury, and the sooner the better. The AlterG® enables the user to start balancing exercises and walking sooner than with traditional rehab technologies. With the AlterG® doing most of the weight-bearing work, users can focus on muscle coordination in a low-impact environment without fear of falling. Neurological patients are able to walk longer and more comfortably. The result of neurological rehabilitation with the AlterG® is greater progress when practicing skills needed for standing and walking.
Call 507-451-7888 and make an appointment for a FREE demonstration.